Winter Morning at the Shore
Let the morning bring me word of your unfailing love, for I have put my trust in you. Show me the way I should go, for to you I entrust my life.
Psalm 143:8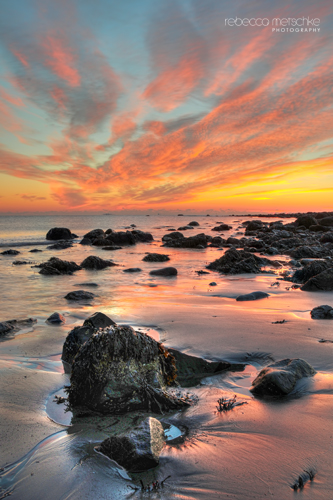 Mornings like this one pictured here (low tide + excellent cloud formation + great color) don't come around every day, but when they do shape up and you're ready and waiting with the camera, it makes for a very satisfying photo shoot.
Ironically, this isn't what I'd hoped to be shooting. Having just spent a week out of town on business - and therefore having missed an arctic blast which sent the mercury diving to Midwest-style lows - I was still hoping to capture sea steam over the water on this day. The previous night's forecast called for temperatures in the single digits...maybe cold enough to produce steam over the relatively warmer water?
While it was quite cold, ten degrees at daybreak wasn't cold enough. However, as I was driving over to the shore, I could see some great clouds to the southeast - right about where they needed to be to pick up some good color as it got closer to sunrise. And I knew it was low tide - my preference in terms of finding compositions along the shore.
Not only was it pretty, the color was long lasting; I was able to shoot for about twenty minutes before it started to wash out. So while I got zero sea steam - it was a fantastic morning. You will definitely see this image in a new design coming soon to The Christian Gift!  
Join the Christian Gift Community
Be the first to know about the latest news, new products, and exclusive specials by subscribing to our free newsletter.