Up, Up and Away!
Wherever You Go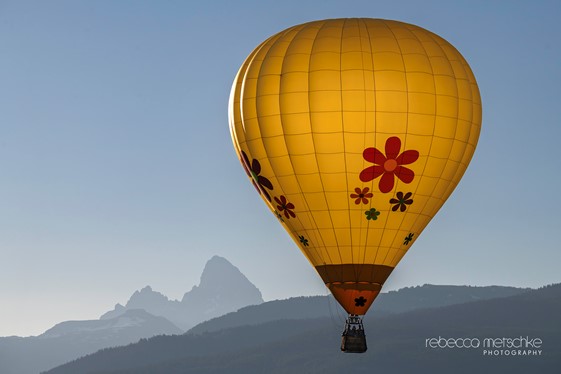 Independence Day festivities in Teton Country include a longtime annual event: the Teton Valley Balloon Rally.
Taking place over four days at the beginning of July, the rally brings pilots and crews from around the country to the fairgrounds in Driggs, Idaho - not to mention the many volunteers who help make the event happen. 
The process from unpacking to liftoff is interesting to watch. The basket is unloaded and the propane jets are tested. An enormous tarp is unfolded, onto which the balloon is unpacked and extended. The balloon is filled with cool air from a large fan, after which blasts from the jets heat the air. This enables the balloon to be raised upright. While the pilot is readying for liftoff, other crew members roll up and repack the tarp. Finally, it's up, up and away. Meanwhile, the chase crew takes off to follow the balloon. They wait near the anticipated landing spot and pack the balloon up once the flight is over.
It's a colorful spectacle, guaranteed to put a smile on your face.
Watching the balloons once they're floating across the early morning sky, this excerpt from Scripture always comes to mind:
"The Lord your God will be with you wherever you go."
Joshua 1:9
I hope you enjoyed the holiday, however you celebrated it!
Join the Christian Gift Community
Be the first to know about the latest news, new products, and exclusive specials by subscribing to our free newsletter.