Vacation Bible School Fun
Some lucky children in Chicago's northwest suburbs get a real treat every year when they walk in the door for Vacation Bible School thanks in part to the amazing, elaborate decorations adorning the space. My sister, an artist and muralist, is the driver behind this project for her church - creating everything from free-standing larger-than-lifesize characters to huge murals as a cool, colorful backdrop for VBS.
Beginning in January, she works each year for four-plus months creating all the elements that, once installed, become a wonderland for the kids. As the months progress, her garage, her studio, and then eventually even some of the main living areas in her house become filled with all sorts of interesting things as she builds and paints her way toward the finish line.
Her handiwork is somewhat legendary in her neck of the woods; other churches routinely arrange to borrow various components to use in conjunction with their own Vacation Bible School programs in the weeks following.
This year's theme is "sky" (maybe your church is rolling this one out, too)...so among other things, Kathy has built biplanes and hot air balloons that will "fly" suspended from ceilings, painted free-standing characters (see below), and created a huge mural featuring a bright red biplane soaring through brilliant blue skies.
To say that she takes the elements the church receives from the program's creator and then cranks it up a notch would perhaps be a bit of an understatement. Fun!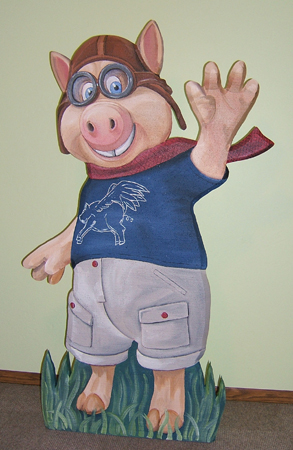 Join the Christian Gift Community
Be the first to know about the latest news, new products, and exclusive specials by subscribing to our free newsletter.