Did this summer speed by - or is that just my warped sense of time? Perhaps it's because last winter was another challenging one in my neck of the woods, so the thought of returning to that frozen time of year leaves me a little cold (pun intended)!
Maybe it's due to the fact that our summer was relatively mild. (Believe me, I'm not complaining about this one. Excessive heat and humidity are not my favorites.)
Autumn doesn't officially arrive until next week, but it's already feeling like it has settled in. While only the middle of September, there's enough of a threat of frost tonight that I'm going to cover my plants just to be on the safe side. That said, while I'm never in any hurry for winter to arrive, I get pretty excited this time of year.
There is nothing like the foliage show in northern New England, and photographing it is something I look forward to. Part of the challenge is mapping out my shot list - which I completed last week.
Of course, the list is only a general guideline since the conditions have a huge say in the images I end up making! I have a feeling the colors may be early this year since the north country is projected to see a freeze already this week.
The onset of the first hard freeze usually hurries things along... While the foliage is spectacular here in New England, of course many areas across the country will be painted with lovely color over the course of the next six weeks. Get out there and enjoy it!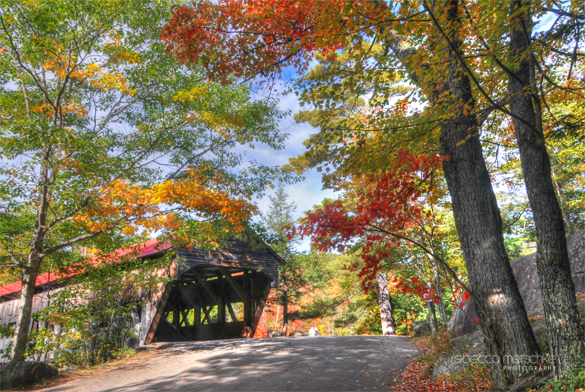 Red roof of the Albany Covered Bridge matches the surrounding foliage beginning to turn
Join the Christian Gift Community
Be the first to know about the latest news, new products, and exclusive specials by subscribing to our free newsletter.