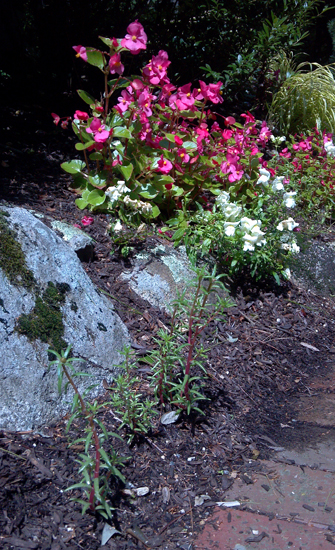 "The secret to success does not lie in talent, but in hard work, will and opportunity."
For each of the past few years, I've been treated to a pretty good illustration of the fruits of persistence in a little corner of one of my flowerbeds. In this snapshot you can see the pink begonias I plant in this spot each spring. You'll also see a couple of white snapdragons and, in the foreground, some portulacas that have yet to bloom.
But I only planted begonias.
I used to put portulacas in this general area. Before that, it was snapdragons. It's been begonias for at least the last two growing seasons. Yet each time, by mid-summer, the snapdragons and portulacas poke their heads out of the ground and begin to grow anyway, as some of their distant relatives obviously went to seed.
If you're not a gardener, you may not appreciate how unusual this is. These plants are annuals - not perennials. Annuals don't come up year after year; delicate plants, cold weather is not their friend. Frost kills them. The fact that these little guys have gone to seed, biding their time 'underground' during extremely harsh winters, and grown again is somewhat extraordinary.
The portulacas are real latecomers and in a race against the clock. They may just bloom before the frost comes. While these plants don't exactly go with the current design and look rather haphazard, I never have the heart to pull them out. They were tenacious enough to get here and did it without any help from me. In their own way, they affirm what can happen with some hard work, will and opportunity - just like the quote says.
A little bit of wisdom from unlikely messengers.
(Quote borrowed from Matthew Syed, author of 'Bounce: Mozart, Federer, Picasso, Beckham, and the Science of Success')
Join the Christian Gift Community
Be the first to know about the latest news, new products, and exclusive specials by subscribing to our free newsletter.