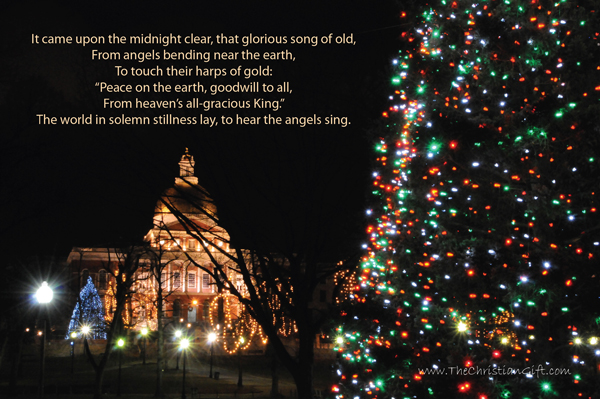 This is one of my favorite Christmas carols.
And though most of us know verse one, it's the third that I find especially moving:
All you, beneath your heavy load,
By care and guilt bent low,
Who toil along a dreary way
With painful steps and slow:
Look up, for golden is the hour,
Come swiftly on the wing,
The Prince was born to bring your peace;
Of him the angels sing.

As for the photo above, it's the Boston Common at Christmas time. You see the City of Boston's official Christmas tree (though a much larger one is located not far away at Faneuil Hall), and in the distance, the State House. The tree is an annual gift from the government of Halifax, Nova Scotia in thanks for assistance received following the 1917 explosion that destroyed nearly half of that city, killing 1,500 people instantly and injuring thousands more.
Join the Christian Gift Community
Be the first to know about the latest news, new products, and exclusive specials by subscribing to our free newsletter.