If you live anywhere in the path of totality for next Monday's total solar eclipse, you have no doubt been hearing about it for many months. Here in eastern Idaho, it's all-eclipse-all-the-time!
A family about ten miles south of where I live happens to own a butte along with a lot of additional land - and they've been selling RV parking for eclipse weekend along with automobile parking for the day of the event. People are coming from all over the world to this spot in Menan to view the eclipse from the edge of a crater. The advantage is height.
At 500 feet, people will be able to watch the shadow move across the valley. I am one of those who purchased a parking space right up there on the crater.
The last newsletter I received from the organizers indicated that they're expecting international guests from Australia, Canada, Denmark, France, Great Britain, Germany, Greece, Italy, Japan, Norway, Singapore, Slovenia, Spain, and Sweden. United States visitors are coming from Alaska, Alabama, Arizona, California, Colorado, Delaware, Florida, Georgia, Hawaii, Maryland, Massachusetts, Michigan, Minnesota, Missouri, Montana, New Hampshire, New Jersey, Nevada, New York, North Carolina, Ohio, Oklahoma, Oregon, Pennsylvania, Tennessee, Texas, Utah, Virginia, Washington, D.C., Washington State, Wisconsin, and Wyoming. And Idaho, of course.
This is just for a single location! Now multiply that by people who are coming to Jackson, Wyoming, Rexburg, Idaho, and Idaho Falls, Idaho - and countless campsites in between - and you have some idea of the influx we are expecting in the coming days.
Estimates predict as many as 500,000 visitors will be in eastern Idaho for the eclipse. This being a largely rural area, with the population of the largest city (Idaho Falls) not even 100,000 - and you have some idea of the enormity of those numbers.
The "cosmic traffic jam," as one official put it.
In talking with my neighbors about this yesterday, we decided we may forego the spot on the crater and stay put right here on my back deck. We're on the edge of a canyon, so should still have a partial "shadow effect" - and a lot less in the way of traffic headaches.
I'd looked forward to photographing all the people with their eyes trained to the sky, but.....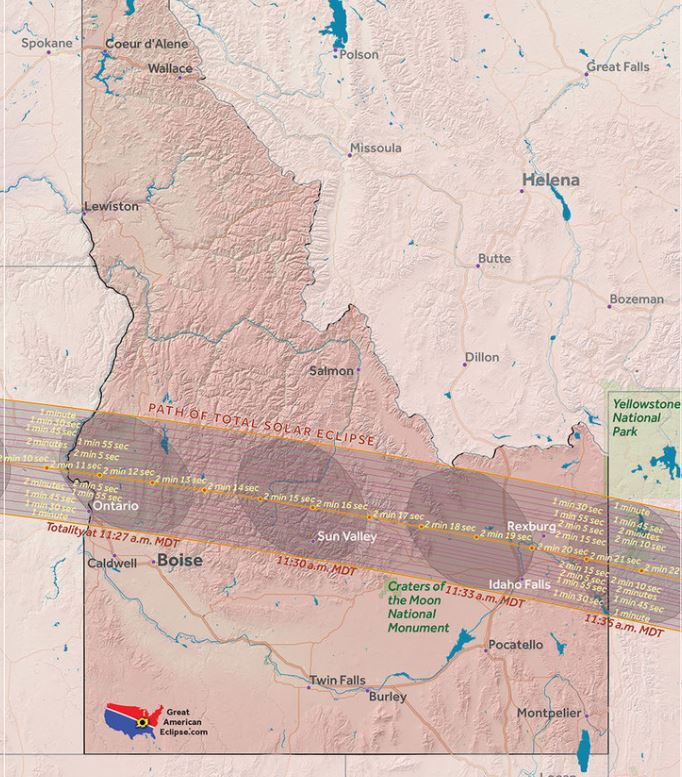 Map credit: Michael Zeiler[/caption]      
Join the Christian Gift Community
Be the first to know about the latest news, new products, and exclusive specials by subscribing to our free newsletter.