It began two years ago...by accident. I went down to Boston to photograph the Faneuil Hall Christmas tree over the Thanksgiving weekend. It's always the largest tree in New England - and as I recall it topped 80 feet and was actually taller than the tree in Rockefeller Plaza that year. It seemed like it might be interesting subject matter.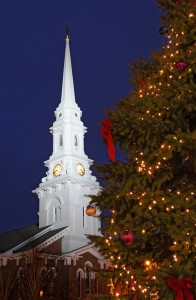 A few evenings later, I was in downtown Portsmouth, NH composing a shot featuring the city's tree along with the iconic North Church. (Yes, we have a North Church, too - though Boston's is more famous!) It was uncomfortably cold, the conditions were challenging as a persistent breeze kept the bows on the tree flapping, and I was sick. Happily, though, that was a very good session.
That's really all it took to get me started on an ongoing "assignment" that is now into its third year: The Christmas Project. It's my quest to photograph interesting Christmas images wherever I can find them... Since a deep blue sky is more interesting than one which is totally black, I've got a narrow window during which to work - which means I can only make one image in a given day. (I do sometimes shoot after the sky has lost all color, but it's those deep blue skies that I prefer.) This time of year in my neck of the woods, "prime-shutter-time" is between 4:40 and 4:50pm.
Obviously, this necessarily limits what I'm able to accomplish in a single season...so the Project continued on into the next year, and now a third one! In the interest of making these images, I've done some crazy things.
One afternoon last December, I hopped in the car and drove to Dartmouth College...a little more than 100 miles away in Hanover, NH. It was raining, but a fairly mild day - and I knew there was a tree waiting for me on the green in the center of campus. I arrived about 45 minutes before the appointed time, found my shot, and then retreated to the car to get out of the precipitation and wait until I needed to set up. By 5pm I'd made the picture, the sky had lost color, and I turned around for the nearly 2-hour drive back home. I've been to Gloucester, MA, Cape Neddick in York, ME, Kennebunkport, ME, and Boston. I've been to Manchester, Exeter, North Hampton, and Greenland - all in NH. (I've also driven all over roughly a 30 mile radius from my house, looking to see what I might find....)
I did some Christmas Project work in Chicago, too.
Within the next 10 days, I'll be back in Boston working at some new locations. I'm also hoping opportunity presents itself while I'm on a quick trip to Florida. New York City and Newport, RI are 2012 targets, too - but time is tight so we'll see if I make it.
They were both on last year's list, but the clock ran out too soon.
It has become a bit of an obsession, and I search the Internet for information regarding tree lighting dates and prospective locations. I have a feeling this multiple-year assignment has a long run ahead!
Join the Christian Gift Community
Be the first to know about the latest news, new products, and exclusive specials by subscribing to our free newsletter.