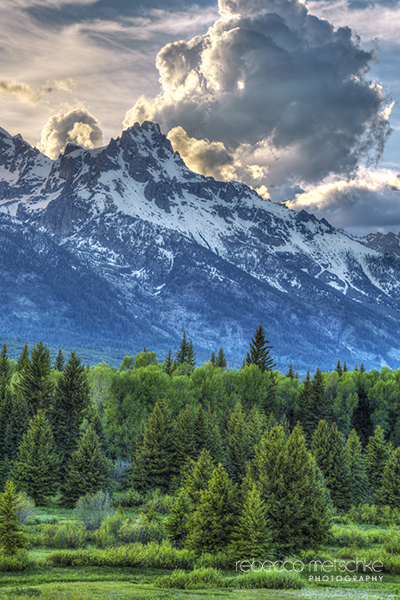 "In all things of nature there is something marvelous."
-Aristotle
I recall how awe-inspiring it was the first time I laid eyes on the Teton range. The lack of foothills on the eastern side makes for quite a dramatic view of the mountains (that said, the peaks are equally beautiful on the western slope). After having explored the area on that initial visit, it quickly catapulted up to the high end of my favorite national parks.
It's a little ironic, then, that some 20-years later I ended up living near the Tetons. I did not wish to leave New Hampshire, and still miss the Granite State, but there is some very special scenery out here within close range.
For my money, the most beautiful time of year in the Park is spring. It arrives late and is fleeting, but it is spectacular. The juxtaposition of seasons, with winter clinging to the mountains while lush greens of new growth abound below, is stunning. The rivers run high and fast from runoff: not a good time to photograph reflections, but this of course helps make possible the riot of emeralds and limes across the valley.
Soon enough, the rains will fall less frequently (this has already begun) and much of the snow pack will have melted. Then a lot of these greens will transition to amber as the grasses dry out.
For now, though, I enjoy the sights of the season.
This photograph was made late in May near sunset after storms had moved through the area. A sight to behold!
Join the Christian Gift Community
Be the first to know about the latest news, new products, and exclusive specials by subscribing to our free newsletter.