Personalized Christian Gifts - What is Archival Quality, and Why Does it Matter?
When reading the product information about our personalized plaques, you've probably noticed the phrase "premium archival quality materials." That's what we use to create all of our wall art.
What does archival quality mean - and why does it matter?
First: archival quality. This refers to the grade of our inks, papers, tape and matboard. In the case of the matboard, museum quality means this is a premium product with a pure white 100% cotton rag core and backing paper. All components are buffered, 100% acid-free, and 100% lignin free. Acid free - that makes sense, right? But lignin? Just as important.
Lignin is a natural bonding material that holds paper fibers together. But lignin is naturally acidic; as it deteriorates, it gives off acid. Therefore, if your acid-free paper contains lignin, the paper will still become acidic over time - causing the paper to deteriorate. Yellowing newsprint is an extreme example of this kind of deterioration. While it happens more slowly with artwork and matboard, those things will turn yellow, too, if there is acid present. You can see how important it is that acid be removed from the equation.
And it's not just the matboard that matters. The paper your artwork is printed on must be acid-free as well. It wouldn't matter much if we were to use 100% acid and lignin free matboard, only to have acid from the artwork bleed into the matboard and contaminate it. The same goes for the tape used mount the artwork, and the inks used to print it in the first place.
At The Christian Gift, each one of those components is premium archival quality. They cost more, but they're worth it, because each component is fade and bleed resistant.
Your personalized plaque will look as good years from now as it does on the day you present it to the recipient. (As with any piece of art, all he or she needs to do is avoid hanging it in direct sunlight.) The artwork will be retain its vibrant color, and the matboard will remain bright white - even around the bevel edges. This is a gift you can be proud of.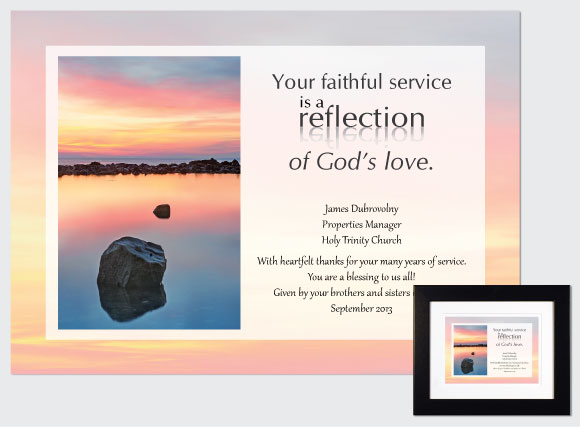 Personalized Service Appreciation Plaque - Personalized Christian Gifts
Join the Christian Gift Community
Be the first to know about the latest news, new products, and exclusive specials by subscribing to our free newsletter.