Personalized Christian Gifts - Baby Birth Records - Birth Stats - Nursery Wall Art
Babies are one of the reasons The Christian Gift came into being. Well, actually, a single baby is more accurate. More than ten years ago as our extended family welcomed the arrival of the latest addition to the clan, I began the search for a unique keepsake to present to her on her baptism day. It needed to be a religious-themed gift that I could personalize. I discovered my options to be rather limited.
That got me thinking; eventually, I ended up creating my own line of personalized christian gifts. And while it was mementos for baptism that got things rolling, so much more followed. Just in the baby category alone, we have personalized baptism day keepsakes for the child's nursery as well as keepsakes commemorating the special day for godparents (great way to thank them!)...and there's also a collection of personalized birth records.
The birth records were fun to create and afforded me an opportunity to once again collaborate with artist Kathleen Herold. She was instrumental in helping me bring the "Heaven Sent" concept to life!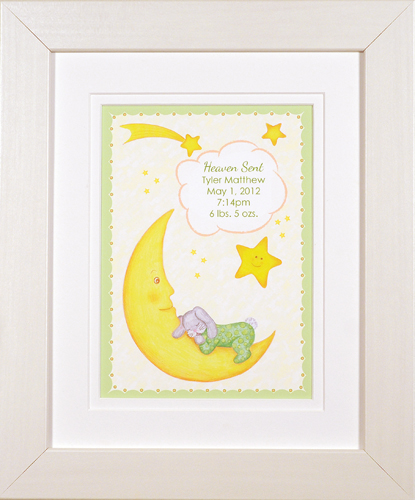 Kathleen also breathed life into another concept, of toys sitting together in baby's room, for another one of our birth record designs.
Is there a blessed event coming soon to your family or among close friends? These personalized plaques are lovely ways to commemorate baby's birth and welcome the "good and perfect gift" from above.
Join the Christian Gift Community
Be the first to know about the latest news, new products, and exclusive specials by subscribing to our free newsletter.