Night Falls on the Zakim Bridge
Show me a bridge and I'll probably want to photograph it. :) One which has been on my shot list for a couple years now is the Zakim in Boston. Actually, its formal name is the Leonard P. Zakim Bunker Hill Memorial Bridge. Quite a mouthful, so you can see why most locals refer to it simply as the "Zakim."
It spans the Charles River between Boston and Charlestown.
Within close walking distance of the Bunker Hill Memorial, each of the structure's towers mimics the memorial. It's quite lovely - and hugely improves the appearance of that area following the (seemingly endless) Big Dig project.
I was at Paul Revere Park on the Charlestown side of the river a few evenings ago to photograph the bridge as evening gave way to night.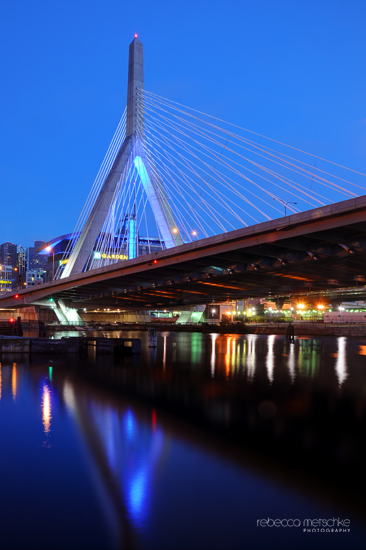 Unfortunately the wonderful clouds which had dotted the sky just prior to sunset began to dissipate so there was no texture remaining in the deep blue sky. Still, I was happy with the result. I plan on returning to shoot the bridge from another park a little bit further down the shore. Perhaps the skies will be more cooperative on the next go-around!  
Join the Christian Gift Community
Be the first to know about the latest news, new products, and exclusive specials by subscribing to our free newsletter.