Though my mom died nearly 20 years ago, she remains a vibrant part of my daily life. There was a strong bond between us; I told her on her deathbed we'd always be together, and that's been the case as I carry her with me in my heart.
Our relationship continues as I remember things she taught me and advice she gave me. I can still hear her voice and feel her love.
As young adults, women often joke about realizing they're beginning to turn into their mothers (me included).  In seriousness, though, I'm proud to share characteristics with her.
What I wouldn't give to have another few minutes in her company.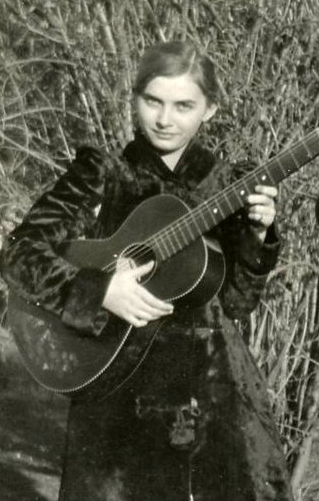 I like to look at photos of her when she was young.
This was Clarice as a teenager, before she married my dad, before they were eeking out a living during the Depression, before his jobs had them moving from Texas to Arkansas to Philadelphia to Tennessee and Nebraska in between, before she'd lose her first baby the day he was born, before five more children arrived on the scene, and before she suffered a massive stroke and spent 10 years confined to bed.
Life wasn't exactly easy, but she lived it to the fullest.
She was a great cook, a talented seamstress, and had a way with the written word. She was creative, loved books, music, and animals, and she knew how to stretch a dollar.
She had a "can do" spirit.
She was kind, thoughtful, and devoted to the Lord.
She was courageous. The way she dealt with adversity following her stroke proved that beyond a doubt.
Dedicated to my dad and to us kids, she loved us deeply - and we all knew it.
You don't get to pick your parents...but I wouldn't have wanted anyone else. My mom was a gem.
Happy Mother's Day!  
Join the Christian Gift Community
Be the first to know about the latest news, new products, and exclusive specials by subscribing to our free newsletter.