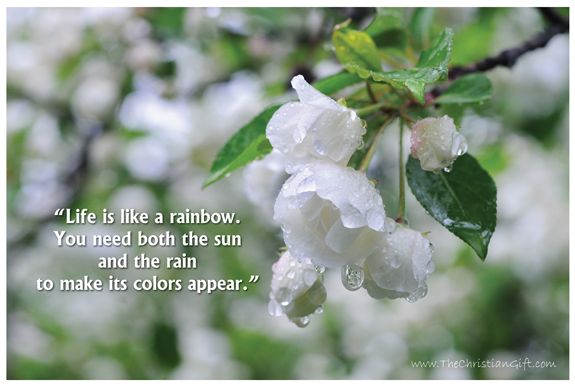 I found this quote the other day. There was no attribution given, but I thought the sentiment was spot on!
A Nor'easter just blew through this area, leaving up to three inches of rain behind. With precipitation totals lagging, we needed the moisture. Three inches in the space of 30 hours was a little much in terms of the ground's ability to soak it in, but welcome nonetheless.
Especially during the spring, I love to get out with my camera and shoot the buds covered with raindrops. Those are magical moments when everything appears to be encased in jewels!
With periods of unusually warm temperatures arriving early - and little rain - the buds have already given way to flowers on my trees and shrubs. Still, I had a few good sessions Monday morning between bands of heavy rain.
This image is from one of my crab trees, blooms just opened and covered with droplets.
Join the Christian Gift Community
Be the first to know about the latest news, new products, and exclusive specials by subscribing to our free newsletter.