A Little Recognition Can Go a Long Way
Keeping Volunteers Motivated
Volunteers are the lifeblood of churches and service organizations alike. We don't want our volunteers to burn out - and we certainly don't want to lose them. It's also important to encourage others to donate their time and talents as well so the pool of volunteers continues to grow. With more people, more can be accomplished! Here are a few things you might try to keep people motivated/get people interested:
Depending on the type of service in which they're involved, maybe breaks can be scheduled - using a rotating team or rotating shifts.
Sometimes the prospect of a "job with no end" can scare people away. They might be interested in projects that have well-defined time frames: say, a property improvement project, or vacation bible school, or a food drive.
Provide options to move into different roles. Communicate with volunteers to make sure they're still enjoying the job they're doing. While some are perfectly happy sticking with a single job long-term, others might be interested in expanding their role or switching gears altogether after a period of time.
People generally want to serve where they're gifted. They want to do work in areas at which they're skilled. Help them find a good fit based on their talents.
Volunteering can be a great opportunity for a person to learn how to do something new. Just make sure they're provided the training they need to succeed.
Acknowledge their contributions.
Though it's not intentional, sometimes the most dedicated - the ones who show up without fail, are always prepared, and do amazing work week after week - are the ones we forget to acknowledge.

Of course it's not that their contributions aren't appreciated. But because they are so dependable (and often become integral members of the team), time can have a way of passing without much being said in the way of thanks.

People don't sign up because they want a pat on the back - but a little recognition can go a long way. It might be an appreciation dinner for volunteers, or a shout out during services, or a note, or recognition for a service milestone.

If you'd like to convey thanks with a token of your appreciation, you might consider one of our appreciation plaques. Each one is personalized, so they can be used for virtually any type of job function/activity.

Follow the link to browse the collection:

Personalized Service Appreciation Plaques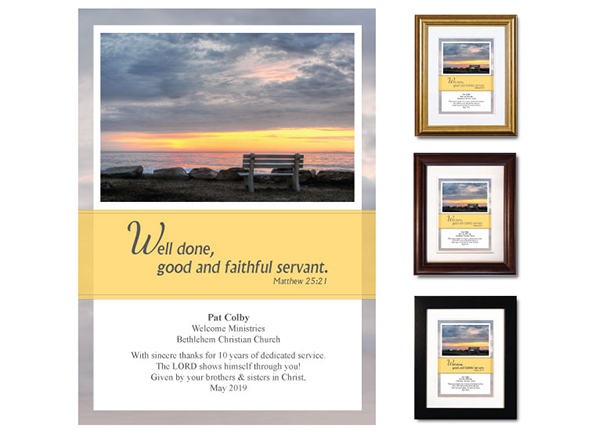 Join the Christian Gift Community
Be the first to know about the latest news, new products, and exclusive specials by subscribing to our free newsletter.