Keeping Christmas All Year
And so the 2011 chapter of photographing as many Christmas scenes as possible comes to a close (I first embarked on this project during the 2010 holiday season). My final shoot was last Thursday evening at the Boston Common. This is the city of Boston's official tree with the State House in the background.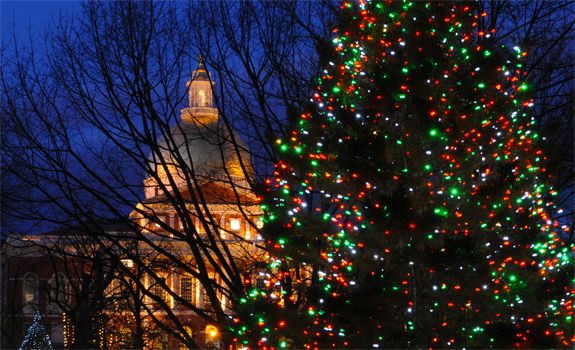 My journey began in late November at Faneuil Hall in Boston. Next up was Nubble Lighthouse at York, Maine. Back in New Hampshire, I worked locally at nearby North Hampton, New Hampshire ~ followed by a 100+ mile drive up north to Hanover, New Hampshire and Dartmouth College.
After that, I spent a few days shooting in downtown Chicago.
Returning to New England, it was Kennebunkport and Ogunquit in Maine, and finally back to Boston. Though I'd hoped also to make it to Newport, Rhode Island and New York City - I ran out of time. (Next year!)
So now that Christmas is behind us, it seems a good time to remember what the great Charles Dickens had to say about the spirit of the season:
I will honor Christmas in my heart, and try to keep it all the year.
Join the Christian Gift Community
Be the first to know about the latest news, new products, and exclusive specials by subscribing to our free newsletter.