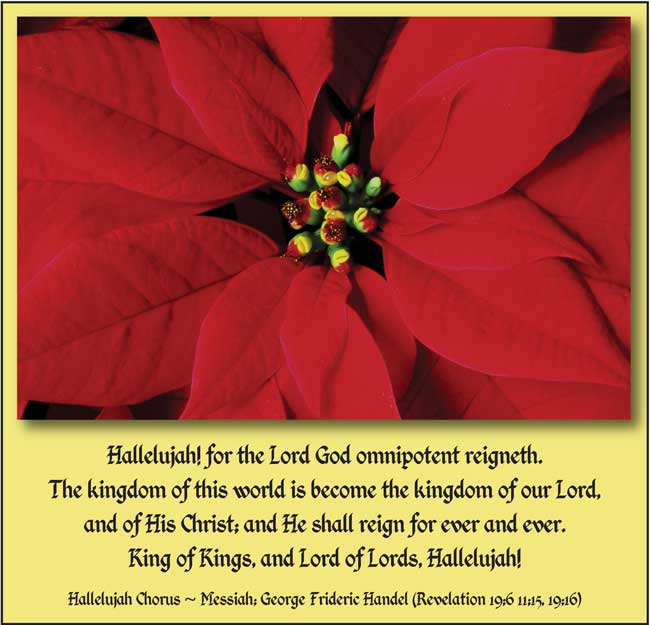 I come from a family of music lovers. Though my tastes are pretty broad, ranging from classical to jazz to rock (and quite a bit inbetween), my parents gave me a strong foundation in classical music. My dad played various selections on the stereo each Sunday morning as we got ready for Sunday School and church, and then I began studying classical piano at age 8. I was introduced to Handel's Messiah at a young age...and it's been a favorite ever since.
My first opportunity to hear it performed live came when I was just 10 years old. My brother was home on leave from the Air Force, and my folks took Dave and me with them to Orchestra Hall in downtown Chicago to hear the Apollo Chorus' rendition. Fast forward to the late 1980s - when I decided it was high time to go hear Messiah again. 
My mother, having suffered a serious stroke, was housebound...but I asked my father if he'd like to go. He said yes, and we had a great time. We made a night of it; heading into the city ahead of time for dinner and then over to beautiful Orchestra Hall on Michigan Avenue for the concert.
Thus began an early-December tradition that went on for something like 17 years. Even after my job took me away from Chicago, I'd fly back every December and take my dad downtown for dinner and Messiah. Other family members began to join us...it was the absolute highlight of my preparation for Christmas.

By the way, I heartily recommend Apollo. If you're ever in the Chicago area in December and enjoy Handel's Messiah, treat yourself to this performance. Apollo is the oldest musical organization in Chicago, dating back to 1872, and they've been performing Messiah since 1879. They're known for their performances of  choral masterworks; they'll next be singing the Brahms Requiem in the spring.
My dad and I enjoyed our last concert together in 2004; declining health made it too difficult for him to walk through icy city streets after that.
As I put Messiah into the CD player yesterday, I wondered if it would be difficult to listen to; my dad very suddenly left us to be with the Lord on December 9th. But when the music filled the room, I was overcome with many, many happy memories of excursions with him (and that one much earlier with both my dear folks) to hear the beautiful music. This time I listened with my beloved father front of mind.
Pretty much everyone recognizes the Hallelujah Chorus.  The text from Revelation that it's based on is paired with the image above.
Immediately following it, though, Messiah moves into the Easter part of the story. And it's especially significant for me this Christmas:
AIR     I know that my Redeemer liveth, and that He shall stand at the latter day upon the earth; and though worms destroy this body yet, in my flesh shall I see God. (Job 19:25,26)
For now is Christ risen from the dead, the first-fruits of them that sleep. (1 Corinthians 15:20)
 CHORUS     Since by man came death, by man came also the resurrection of the dead. For as in Adam all die, even so in Christ shall all be made alive, (I Corinthians 15:21)
 RECITATIVE      Behold, I tell you a mystery; We shall not all sleep; but we shall all be changed in a moment, in the twinkling of an eye, at the last trumpet.
 AIR     The trumpet shall sound, and the dead shall be raised incorruptible, and we shall be changed. For this corruptible must put on incorruption, and this mortal must put on immortality. (I Corinthians 15:52,53)
 RECITATIVE     Then shall be brought to pass the saying that is written; Death is swallowed up in victory. (1 Corinthians 15:54)
 DUET     O death, where is thy sting? O grave! where is thy victory? The sting of death is sin, and the strength of sin is the law. (1 Corinthians 15:55,56)
CHORUS     But thanks be to God, who giveth us the victory through our Lord Jesus Christ. (1 Corinthians 15:57)
 AIR     If God be for us, who can be against us? who shall lay anything to the charge of God's elect? It is God that justifieth, who is he that condemneth? It is Christ that died, yea, rather that is risen again, who is at the right hand of God, who makes intercession for us. (Romans 8:31,33,34)
CHORUS     Worthy is the Lamb that was slain, and hath redeemed us to God by His blood, to receive power, and riches, and wisdom, and strength, and honour, and glory and blessing. Blessing and honour, glory and power, be unto Him that sitteth upon the throne, and unto the Lamb, for ever and ever.  Amen. (Revelation 5:12,13)
Amen!!! Hallelujah!!!
Join the Christian Gift Community
Be the first to know about the latest news, new products, and exclusive specials by subscribing to our free newsletter.