Flowers Appear on the Earth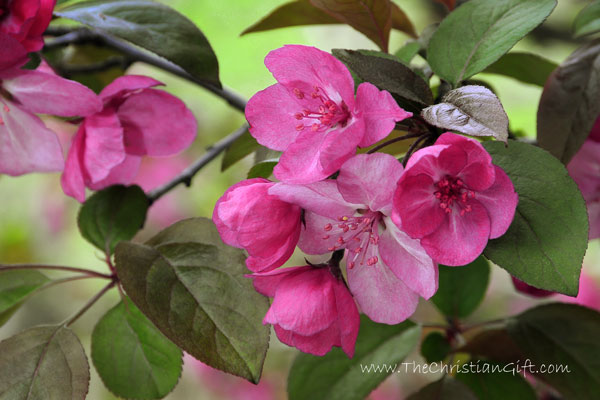 Flowers appear on the earth; the season of singing has come. Song of Solomon 2:12
There is something magical about springtime, isn't there? Once the earth begins to awaken from its winter sleep, things accelerate with amazing speed! At the end of March, we still had snow on the ground here in Northern New England. (Actually, a fairly robust storm dumped 10 inches of snowfall the first day of spring.)
A few weeks ago, most of our trees were showing only the tiniest of buds. Now there's shade beneath most trees...the rhododendron and crab trees are blooming...the flowers on the azaleas are just about ready to open up...and it is absolutely beautiful! Unfortunately, the show is fleeting.
Though spring arrived a few weeks later than usual here, the weather has been quite warm recently. The crab tree pictured above opened its blooms just a few days ago - but already the flowers are in decline. I was out with the camera Saturday morning to see what sorts of compositions I could make (I'd been waiting for the blooms closer to eye level to open) - but was disappointed to see that they had already fully opened in the space of a single day, and some of the flowers higher up were already beginning to drop petals to the ground.
Still, I was able to make some photos. I love that tree. There is nothing prettier than the month of May!
Join the Christian Gift Community
Be the first to know about the latest news, new products, and exclusive specials by subscribing to our free newsletter.