If you've read this blog for any length of time, you know I spend a fair amount of time over at the coast throughout the year working on the "sunrise project."
This has turned into quite the undertaking. Getting up early is the least of the challenges (though I must admit, this time of year it's much easier...rather than having to be in position at 4:30am, I set up a full two hours later.)
As with any outdoor photographic pursuit, the pesky conditions are the variable that can drive me nuts. Too few clouds (or no clouds at all) and you won't get a shot since there won't be any interesting color. Too much cloud cover and - obviously - you won't see the sun come up.
Then there's the tide. Compositions change dramatically from one day to the next given the level of the sea. While I can usually work with what the tide is giving me, of course there's nothing at all I can do about the sky.
It's not unusual for me to walk away without having made a usable image. (It's that much sweeter when everything comes together!)
Regardless of whether it's a successful session, I never get tired of watching the "show." The scene below occurred on a day when heavy cloud cover was trying its best to keep things under wraps - only to have the wonderful pinks and magentas bursting out at the seams!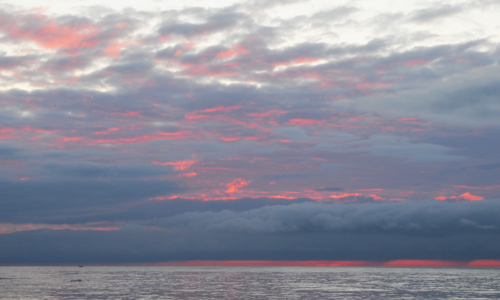 Beautiful, isn't it? While I won't be able to do anything with this image, I was happy to watch the scene unfold.
Join the Christian Gift Community
Be the first to know about the latest news, new products, and exclusive specials by subscribing to our free newsletter.