Ideas Come From Everywhere
Design Inspiration - About the Products
I'm often asked where I get ideas for the product designs. 
Everywhere!
I've learned over the years to keep my eyes open. Successful landscape photographers develop an ability to notice things that others might not see, so that skill has translated well to The Christian Gift and I've put it to good use.
When the store was in its infancy, the first thing I did was scour my Bible looking for Scripture verses I thought might work well as the foundation for various pieces. That was a fundamental first step when I began the initial designs. I filled a notebook with excerpts from Scripture, arranged thematically. 
I carry those verses around with me in my head - so when I'm in the field working with my camera, I'm always cognizant of scenes that might potentially fit with particular excerpts. Sometimes I make photographs specifically for use at The Christian Gift. Other times, I'll create an image that can perform "double duty." You might see it on my photography website, and it also ends up as part of a design here in the store.
I've also been inspired by church banners as well as bulletins. 
The series of baby farm and zoo animals that I've been creating for bedtime prayer plaques are sometimes inspired by stuffed animals or even cartoons. It's been a long time since I was a kid, but I've never lost my love for cute stuffed animals. If I'm in a gift shop that has such critters, I always have a look at what's on the shelves.
If you're a regular reader you know I'm always inspired by beautiful stained glass, and photograph windows that look as though they may translate well thematically whenever I get the chance.
And so on.
Inspiration sometimes comes from unexpected places, and often when I'm not actively looking for it.  
The baptism memento pictured below was inspired by a banner featuring the lovely verse from the Book of Isaiah - one that's beautiful in general, of course, but which fits so well for baptism.  
By the way, if you have a favorite verse - or ideas about imagery - that you'd like to suggest, I'm always interested in your thoughts. I've created a few plaques over the years based on input from customers!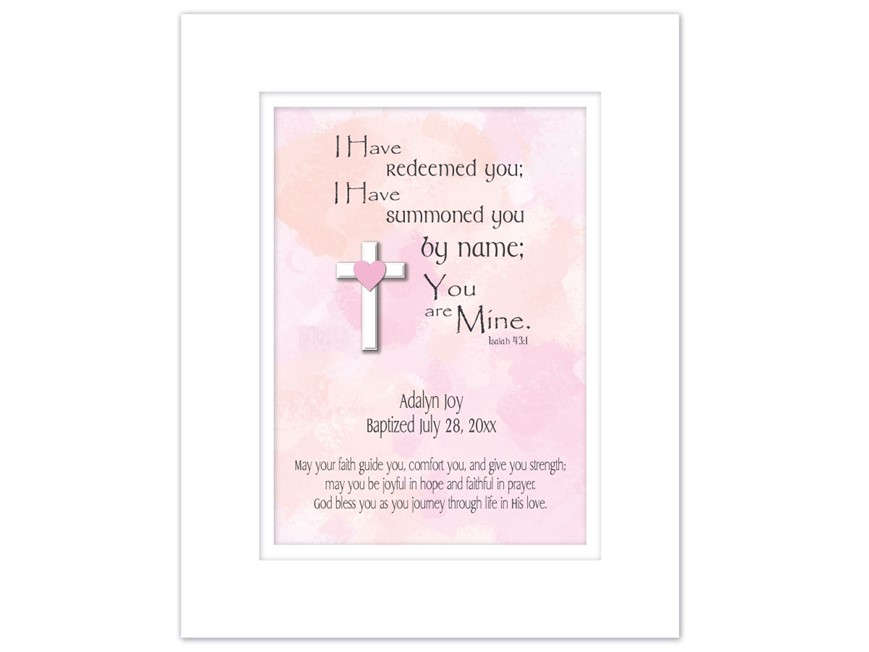 To browse the other baptism designs in the store, follow the link:
Join the Christian Gift Community
Be the first to know about the latest news, new products, and exclusive specials by subscribing to our free newsletter.