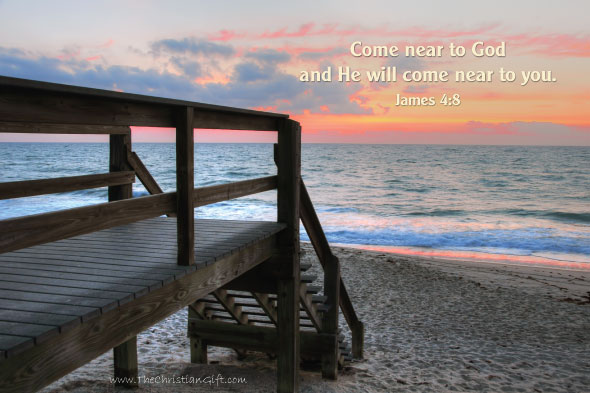 That verse nearly always brings to mind an analogy from a sermon I heard some time ago which stuck with me. Bottom line, two people who'd become estranged were out for a drive in a pickup with a big bench seat. The person on the passenger side commented about the fact that they were sitting so far away from one another....with a whole lot of empty space between.
The driver replied, "I'm sitting in the same spot as always. It's you who moved." Hmmmm.
Sometimes it may feel as though He's distant. Maybe, though, if we slide over and sit a little bit closer, we'll discover He's right there after all.
The image above was made on a December morning at Vero Beach, Florida. Known for its outstanding beaches, Vero's boardwalk extends along Ocean Drive and is a popular spot in the early morning for walkers and joggers.
On this day, the clouds which had filled the sky only 45 minutes before had started to dissipate - thus causing the shot I had composed to disappear. I was left to quickly find an alternative before the sun came up and erased the color from the scene. Needing something interesting to place in the foreground, I settled on one of the many walkways with steps leading down to the beach. It adds context, and leads the eyes into the rest of the frame.
Want to see more of the images which are the basis for most of The Christian Gift's products? You can view them here.
Join the Christian Gift Community
Be the first to know about the latest news, new products, and exclusive specials by subscribing to our free newsletter.