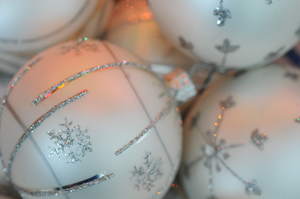 I sampled some of my sister-in-law's Christmas toffee a few weeks ago. It was excellent! She shared the recipe with me; I was surprised to see what the base is made of.
Simple and delicious. Now my turn to share with you!
Christmas Toffee
4 ounces saltine crackers (1 sleeve is usually about right)
1 cup butter
1 cup dark brown sugar
2 cups milk chocolate chips
3/4 cup chopped pecans
Preheat oven to 400 degrees.
Line cookie sheet/jelly roll pan with foil. Spray foil with Pam.
Line pan with saltine crackers in single layer.
In a saucepan, combine the sugar and butter. Bring to a boil and boil for 3 minutes (DO NOT STIR after it starts boiling and be sure to boil for the full 3 minutes).
Immediately pour the mixture over the saltines.
Use a spatula to spread it so it covers the crackers. Don't worry if it doesn't cover every part of each one; it will bubble up in the oven during baking. Bake for 5-6 minutes.
Remove from oven and sprinkle chocolate chips over the top. Let sit for 5 minutes.
The chocolate will have melted; spread it, and then top with the chopped nuts.
Cool completely in the refrigerator.
Peel the foil off the back of the toffee.
Cut with pizza cutter or sharp knife into desired shapes (squares, rectangles, diamonds).
Enjoy!  
Join the Christian Gift Community
Be the first to know about the latest news, new products, and exclusive specials by subscribing to our free newsletter.