Christmas Gifts for Volunteers - Service Appreciation Gift Ideas - End of Year Appreciation Gift
"For I was hungry and you gave me something to eat, I was thirsty and you gave me something to drink, I was a stranger and you invited me in, I was sick and you looked after me, I was in prison and you came to visit me." ... "
The King will reply, 'I tell you the truth, whatever you did for one of the least of these brothers of mine, you did for me.' Matthew 25:35-40
So many people donate time and talents - or finances - or all three, to help others. It might be supporting a food pantry or soup kitchen, or volunteering for disaster relief efforts. Perhaps it's visiting shut-ins or those who are hospitalized, or providing transportation to church or medical appointments to those who can no longer drive. Maybe it's providing support in the way of meals or comfort to those dealing with the serious illness of a family member. The list goes on...
Many churches and service organizations like to convey thanks to dedicated volunteers in a tangible way at Christmas. If that's something your congregation or organization is interested in doing, may we suggest a personalized service appreciation plaque?
We have many designs from which to choose. Each one is created using premium, museum-quality materials. And each one may be personalized. We'd be happy to help you say thank you this Christmas with a personalized plaque. (There are also designs for musicians and teachers.)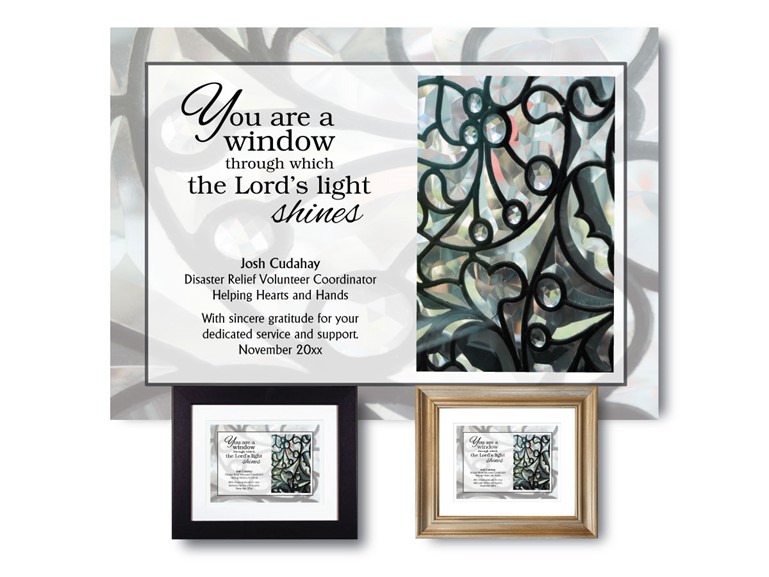 Personalized Service Appreciation Plaque - Christmas Gifts for Volunteers
Join the Christian Gift Community
Be the first to know about the latest news, new products, and exclusive specials by subscribing to our free newsletter.