I shared with you the other day two of the new designs which were just added to our collection of clergy appreciation plaques. Since then, I've received a few notes from folks wanting to know more about the church in which the beautiful windows are located.

It's actually one of my favorite buildings in lovely Old Town Québec City: the Cathedral-Basilica of Notre-Dame de Québec. The cathedral, a national historic site, has a long history.

Not only is it the seat of the Archdiocese of Québec, it was also the first parish church in North America north of Mexico. It was the first church in Québec City to be constructed of stone. Standing at the same site since the mid-1600s, it was destroyed by fire during the Siege of Québec (1759) and rebuilt to the original specifications.

In 1922 it was again severely damaged by fire, and restored - again to the original plans, though various additional elements have been added over the years.

Among the famous people who are interred at the Cathedral are four governors of New France. Nearly 1,000 people were buried under the building from the mid-1600s until the late-1800s.

Inside there are three organs, stunning pieces of art, and the stained glass windows - two of which anchor the designs in those new plaques. The windows came from Europe, where they were designed by Meyer House (Munich) and the Champigneulle House (Paris).

In conjunction with the celebration of its 350th anniversary, the Holy See granted the Basilica the privilege of constructing a Holy Door: the only one in North America and one of only eight worldwide. If you're visiting Québec City, this beautiful Cathedral is a must-see: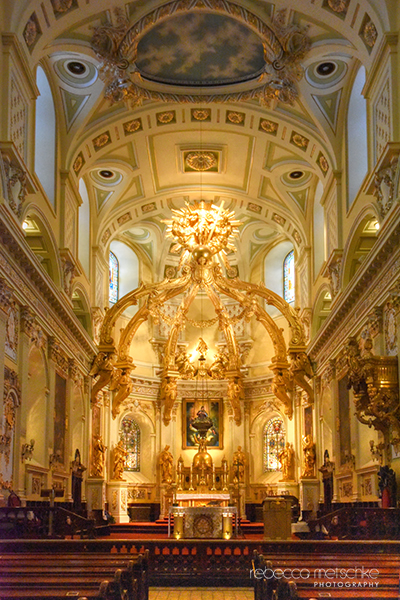 Join the Christian Gift Community
Be the first to know about the latest news, new products, and exclusive specials by subscribing to our free newsletter.