The world is full of lovely churches. Even ruins of churches and cathedrals can be breathtaking. One of my personal favorites is the National Cathedral in Washington, D.C. (officially known as the Cathedral Church of St. Peter and St. Paul). 83 years in the making, the cornerstone was laid in 1907 with work finally completed in 1990. The structure is immense…the sixth largest cathedral in the world.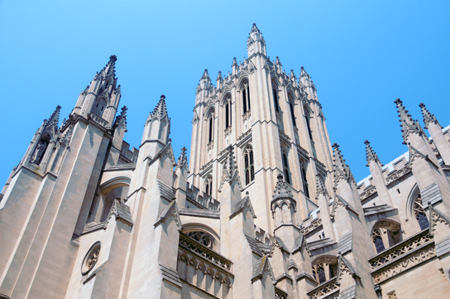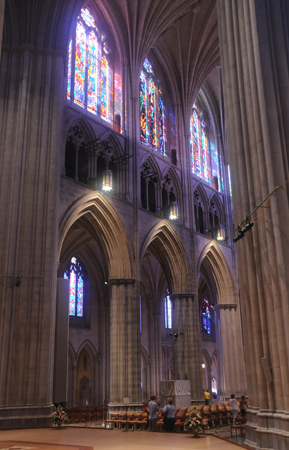 The Gothic style lends itself to soaring heights and large windows. It is filled with them – and they are magnificent.
In the words of the self-guided tour brochure, "more than beautiful decoration, this art is part of the Cathedral's iconography – the planned system of images and symbols designed to teach Christian beliefs, reveal the presence of God, and pay tribute to our country's history and values."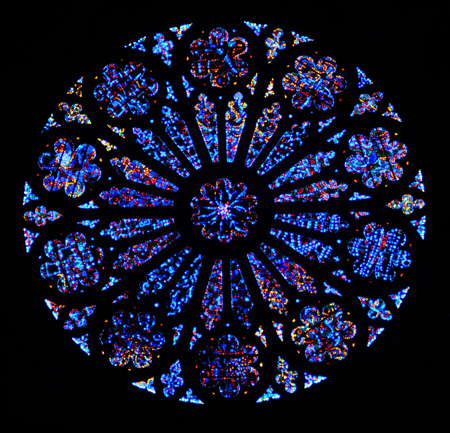 In addition to the spectacular windows, there are all sorts of other interesting things to see. For example, in one of the bays a statue of Abraham Lincoln stands in front of the words of his farewell address given at Springfield, Illinois as he was leaving for Washington to assume the presidency. Or you can take the elevator up to an area that'll give you some nice views of Washington. Amble through the gardens outside on the grounds. There are also more than 1,500 pieces of beautiful needlework (be sure to check out the kneelers), and a fantastic pipe organ. I was lucky enough on my first visit to be there while the organist was rehearsing late one weekday afternoon.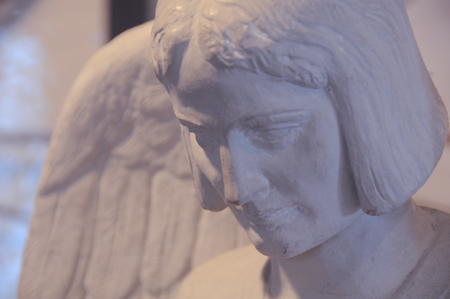 You can spend hours exploring it all. I highly recommend a visit. It's a little bit off the beaten path but worth the trip. Just a few miles from the Mall, you can get to it via the Metro if you're willing to walk a bit from the station to the church. (You'll find imagery of some of the exquisite stained glass windows incorporated in a few of our personalized service appreciation, pastor appreciation, and ordination/installation plaques.)
The National Cathedral, of course, is just one example of all the amazing churches out there.
Do you have a favorite? It could be a place you've seen on your travels, or maybe it's your home church! Care to share?
As a photographer, I enjoy shooting churches and would like to hear about those you find particularly beautiful…for whatever reason.
Join the Christian Gift Community
Be the first to know about the latest news, new products, and exclusive specials by subscribing to our free newsletter.