Backstories About the Images - Vision of Two Sisters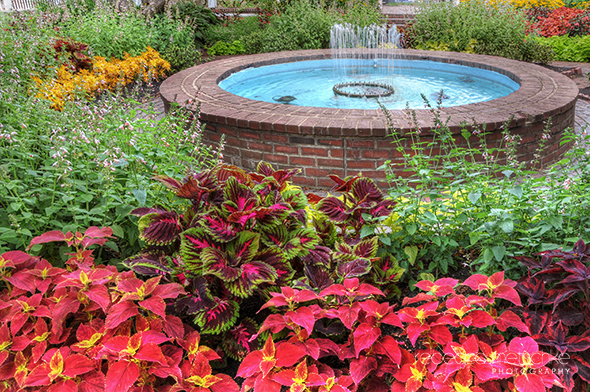 This image depicts what I consider to be one of the loveliest spots in Portsmouth, New Hampshire: the formal garden at Prescott Park.

Located on the city's waterfront, Prescott Park is roughly ten acres of lawns, gardens, piers, docks - and even an island. The park's formal garden was designed in 1965 by Moriece and Gary Inc. Landscape Architects of Cambridge, Massachusetts. It features three circular pools, each of which contains a fountain (one of which you see here), brick walkways, eight spectacular Japanese crab trees, rhododendrons, and thousands of flowers.

The blooms begin in the spring with flowering bulbs, and continue through the summer and well into autumn. White benches line the perimeter, inviting visitors to sit and linger. Any number of weddings have taken place over the years in the formal garden. Including mine.
Walking around picturesque, peaceful Prescott Park now, it's hard to imagine how dramatically different it looked in Portsmouth's earlier days. Once home to wharves and warehouses, it was a business hub of this working harbor. By the 1930s, however, the area had become quite run down. Not only that, the city's red-light district moved in and established itself there.
In spite of its rough appearance, when Portsmouth natives Josie and Mary Prescott looked at this area along the Piscataqua River, they saw potential. Their vision: to transform this seedy, derelict part of town into a beautiful public park for all the residents of Portsmouth to enjoy in perpetuity.
Thanks to a large inheritance from their older brother Charles, the sisters had the means to make their dream a reality. During the 1930s, they began to purchase dilapidated waterfront properties. In 1939 they presented the first section of the part, dedicated to their brother, to the city.
Though Mary died soon thereafter, Josie continued to acquire land for the project until her death in 1949. It didn't stop there, however. Josie's will established a fund to purchase even more property. The Prescott land was turned over to the city of Portsmouth in 1954, along with a trust fund for the care and management of the park. The trust continues to provide for the maintenance of Prescott Park.
Thanks to two forward-thinking sisters with funding made possible by their brother, the city of Portsmouth was gifted a jewel in the center of town - a gift that has continued to give.
The image of the formal garden at Prescott Park seemed tailor made for this verse: "You will be like a well-watered garden..."    
Join the Christian Gift Community
Be the first to know about the latest news, new products, and exclusive specials by subscribing to our free newsletter.