Backstories About the Images - Up in the Air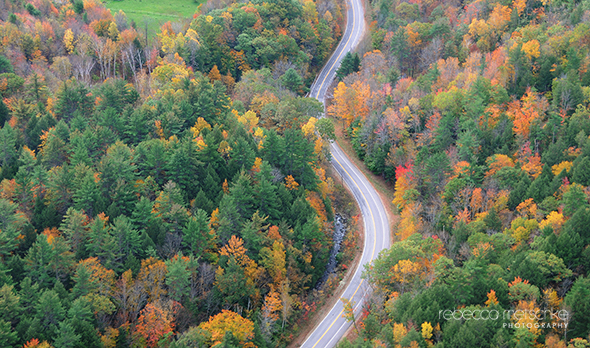 This week, we take to the skies! While drones have become fashionable, I prefer to go about my aerial photography the "old fashioned" way: via small plane or helicopter.
I began shooting from above about six years ago.
The autumn foliage season in New England that year hadn't been particularly good: while the color (as always) was nice, it was truncated and lasted only a brief time. In a previous year with similar conditions, I'd scooted down to the mid-south to extend the shooting season. This time around, the schedule wouldn't allow for that. How to squeeze a little bit more out of autumn? Why, what about an aerial shoot in the Lakes Region of New Hampshire?
I'm not sure what made me think about that as an option.
The Lakes Region is further south and at lower elevation than the White Mountains, so peak foliage there is a little bit later. Somehow I ended up on the website of Emerson Aviation, based out of Laconia, NH (in the Lakes Region) - and that's how my aerial shooting adventures began.
Never having photographed from a single-engine plane, the first time out was a learning experience. I was fortunate to have a pilot who also happened to be handy with a camera. She quickly understood what I was trying to photograph as soon as I pointed the composition out to her, and then did her best to get me into a good position to try to capture the shot.
We'd go around again if need be, or she'd try for a different angle. She was top notch and it was a pleasure flying with her. (This wouldn't be the last time she and I would take to the skies together!) While I was new to the experience, I ended up making quite a few photographs that day.
One of the things I enjoy most about shooting from the air is finding compositions featuring interesting shapes, patterns, and colors. It's a challenge. You're forced to work quickly, and you're never sure what you're going to see, but that's part of the fun. Ironically, the image which is featured today was the last one I exposed on that first aerial shoot.
I'd already closed the window and we were approaching the airport to land when I spied this highway with the singular red tree near the shoulder. I liked both the shape of the road and the dot of red. I wasn't sure whether or not the image would work since I was now shooting through glass, but I figured I may as well give it a try. It ended up being successful. I paired it with this verse used for a teacher appreciation gift:

"Start children off in the way they should go, and when they are old they will not turn from it." 
Join the Christian Gift Community
Be the first to know about the latest news, new products, and exclusive specials by subscribing to our free newsletter.