Backstories About the Images - The Tidal Pool
Today I'll continue the journey "behind the scenes" - backstories about the imagery - with a trip to one of the places at which I worked quite often back in New Hampshire: a large tidal pool on the Atlantic coast.

Back in 2010 I started what became a multi-year project, capturing daybreak/sunrise imagery at the coast. I selected this location because it wasn't too far from my house, and picked mornings because there weren't any good sunset compositions relatively nearby. In theory, this seemed like a spot which could pay big dividends. Then again, spectacular color is served up only sparingly in coastal New Hampshire. Because it's situated so far north, the ocean there never gets very warm - even in the middle of the summer. This impacts cloud production over the water. No clouds = no color. Consequently, I wasn't cranking out images!

It wasn't unusual for weeks to go by without a picture having been made. (Still, since I nearly always had the shoreline to myself with only the lobster boats out on the water for company, even if I didn't walk away with an image it was always a nice way to begin the day.) One summer, I slogged through a few weeks with nothing to show for my effort. Then in mid-August, the skies served up two stunning displays in three days - the second of which is the subject of today's post: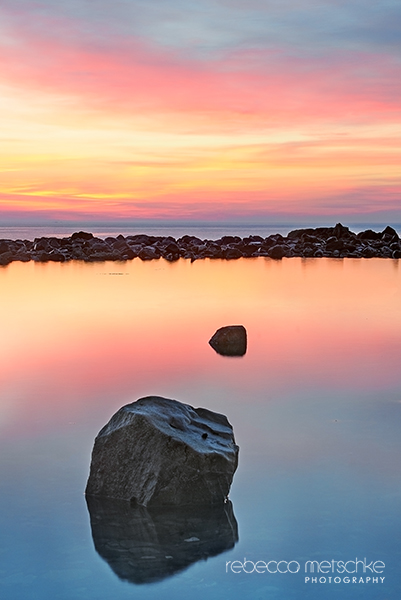 I've spent more mornings than I can count at this tidal pool. When the tide is low, the air is still, and there is color in the sky, you can make some special photographs here. The water level is obviously variable, so you never know from day to day what kind of composition you're going to be able to make - but the challenge is part of what attracted me to that spot.

On this morning, it was dead calm and so humid it felt like you could wring the water out of the air. The mosquitoes were hungry and happy when I showed up! I found my composition but was frustrated by a sky that was "blah." There were very few clouds and it was looking like this was going to be an exercise in futility. After hanging around for nearly an hour with nothing happening, I was about ready to put my camera away. Then a car pulled up. This was unusual; I almost never ran into anyone else in all the years I worked on this project.

The driver jumped out, grabbed his camera, and scrambled over the rocks. He told me he'd come up from Lowell, MA - which means he'd driven a good hour - and very nearly didn't make it in time. Now that I had some (rare) company, I changed my mind and decided to hang around a while longer. I went back to the composition I'd originally been working with, and could not believe what I began to see.

High clouds were moving in quickly; where there had been nothing but clear skies for the previous hour, lovely pastels started to paint the sky as sunrise neared. Snap, snap, snap....then nearly as quickly as it arrived, the color disappeared. The sun cleared the horizon, it was hazy, and the magic was over. This image ended up being one of my favorites from the five years I spent working over at the coast at daybreak.

And to think: I almost bailed out on that morning. I've used this photograph in a couple of product designs for The Christian Gift, one of which is a service appreciation plaque. It seems tailor made for the theme Your Faithful Service is a Reflection of God's Love.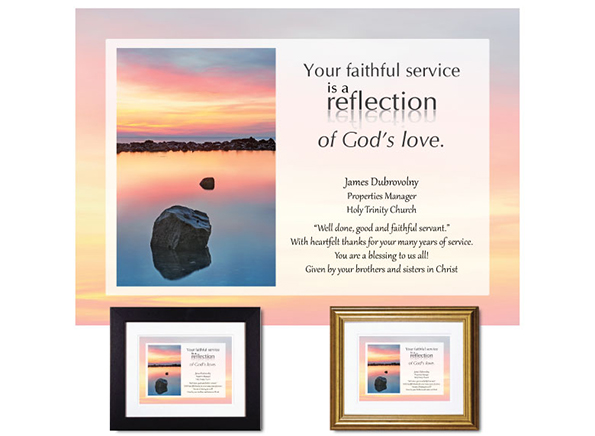 Join the Christian Gift Community
Be the first to know about the latest news, new products, and exclusive specials by subscribing to our free newsletter.