Backstories About the Images - Out to Sea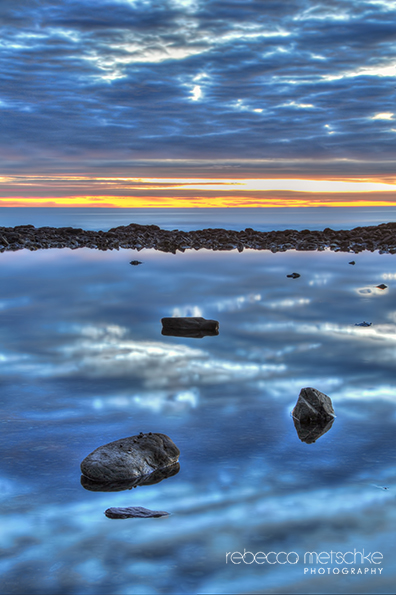 Welcome to New Hampshire's Atlantic coast! New England was ravaged by Nor'easters during the winter of 2014-2015.
Interestingly, the season began with very little snow. Through mid-January, there had yet to be any appreciable precipitation.
That all changed the last week of the month, as the first of many storms deposited some 20 inches at my home. One after another, often with just a few days between them, they marched through the area.
By the end of February, nearly 150 inches had fallen. This image was made shortly before sunrise following a massive, two-day storm. You can see what remains of it here, moving out to sea. The clouds are reflected in the quiet waters of the tidal pool. Most of the exposed rocks pictured are underwater at high tide, erasing the pool - which is why you don't see any lingering snow.
It was a beautiful, calm morning: the quiet after the storm.
Just a few minutes after I made this picture, the sky lit up, turning vibrant pink with an intense band of yellow near where the sun was about to rise. It lasted only briefly before the overcast returned. I ended up with two very different images for my morning's work.
Catching a storm either as it's approaching or when it's departing can be a great time to make photographs. This was certainly one of those occasions. Like most landscape photographers, I often shoot a lot at the edges of the day.
When I lived in New Hampshire, daybreak locations were more readily available, so you'll find many photos featuring the skies early in the morning.
These types of images pair nicely with certain Scripture verses: in this case, "As long as it is day, we must do the works of Him who sent me."
Join the Christian Gift Community
Be the first to know about the latest news, new products, and exclusive specials by subscribing to our free newsletter.