Backstories About the Images - Origins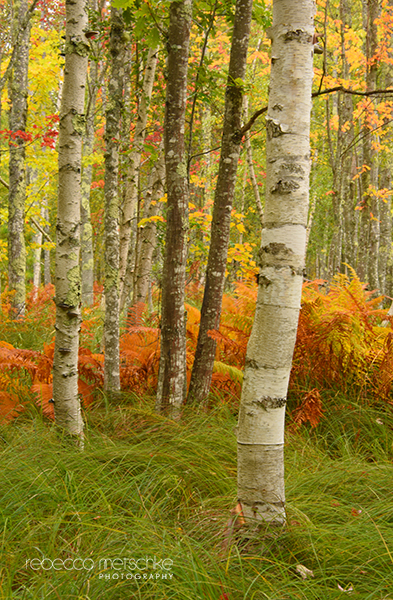 This week we travel to Maine's Acadia National Park - and to the area from which the park originated: Sieur de Monts.
Created in 1916, Acadia was initially known as Sieur de Monts National Monument. In 1909, the gentleman who became the park's first superintendent, George Dorr, built a springhouse and named the spring over which it stands for Pierre Du Gua, de Monts - who, as Lieutenant Governor of New France, sailed to North America with his navigator Samuel Champlain with a directive to explore and settle the area which extends from the present-day Northeast to New England and into Canada.
Sieur de Monts is a beautiful area; it's one of my favorite spots in all of Acadia. Here you'll find an extensive birch forest. The photographic possibilities with lovely white trunks scattered everywhere is vast. In autumn, it's even more spectacular as the abundant, gigantic ferns turn vibrant orange and yellow.
There are wetlands here, so you'll also find dense, wild grasses.
On the day this photo was made, it was persistently wet. It couldn't decide whether it wanted to drizzle or shower, regularly switching from one to the other. Both the camera and I were wearing rain gear, but that wasn't enough: an umbrella was required to further protect my equipment.
Eventually, it transitioned to heavy rainfall which prompted me to wave the white flag. However, in the few hours prior to that, the conditions were nearly ideal with nice, flat light and saturated colors due to the precipitation.
I'm looking forward to returning again to Acadia in early October - and you will most certainly find me back at Sieur de Monts. This image was incorporated into a personalized pastor appreciation gifts featuring this passage from Scripture:

He will be like a tree planted by the water that sends out its roots by the stream. It does not fear when heat comes; its leaves are always green. It has no worries in a year of drought and never fails to bear fruit.
Join the Christian Gift Community
Be the first to know about the latest news, new products, and exclusive specials by subscribing to our free newsletter.