Back by Request...Scrumptous Sugar Cookies!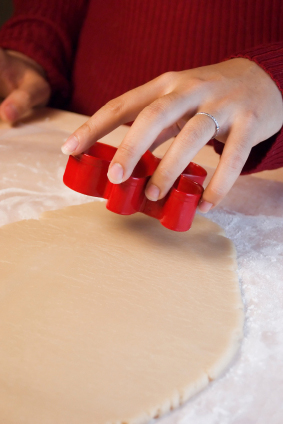 My grandmother, aunts and mom were all very talented around the kitchen. Not just good cooks, they were also superb bakers - routinely creating delicious desserts.
One thing I remember vividly about my grandma's house in Nebraska was that it always smelled wonderful. There was usually something yummy baking in the oven when we came from Illinois for a visit.
One source of those mouth-watering aromas? Sugar cookies.
A few years ago, I shared my grandma's recipe for those cookies in the newsletter. Last week I received an email from a long-time reader who asked if I'd print it again.
It's perfect timing; when I was growing up, these used to be an Easter tradition in our house. (We made them for Christmas, too - although those ended up frosted.)
Plan ahead; the dough needs to chill overnight.
My Grandma Sievers' Sugar Cookies

2 cups shortening
2 cups sugar
4 eggs
2 teaspoons baking soda
4 teaspoons creme of tartar
1 teaspoon salt
6 cups flour
vanilla (eyeball it)

Cream shortening and sugar until light and fluffy. Beat eggs thoroughly and stir into creamed mixture until blended. Add dry ingredients. Add a modest splash of vanilla. (Note: I recommend adding 2 cups of flour at a time. This dough will become quite heavy. If you have a sturdy mixer, like a KitchenAide, it'll handle it, but the key is to go slowly.)
Form dough into two rolls (think "logs" - they'll be about 10 inches long), wrap them with aluminum foil, and refrigerate overnight.
When you're ready to bake, cut in thin slices, sprinkle with decorative sugar, and bake in a 350 degree oven for about 10 minutes (until edges become golden). (You can also roll the dough and use cookie cutters to cut perfect circles - or other shapes.)
For Easter, they're pretty if you use a variety of pastel colors. It's not as easy as it used to be to find decorative sugars in a variety of colors, but they're out there - like light blue, yellow, lavender, pale green, pink, and purple.
Alternatively, you can frost the cookies after they're baked and then decorate with sugar - or if you're really serious, decorate by painting them with food color. This recipe makes about 4 dozen. Enjoy! 
Join the Christian Gift Community
Be the first to know about the latest news, new products, and exclusive specials by subscribing to our free newsletter.