A Special Way to Remember Baptism Day
The Christian Gift was, in large part, born out of a family baptism. As I was looking for something special to present to the newest addition to our extended family upon her baptism, many of the options I was finding weren't exactly my cup of tea. Stuffed animals. Bibs. Blankets.

Out of curiosity, I began looking into gift ideas for Godparents. There were lots of mugs. Picture frames. T-shirts.

Baptism Day is, of course, an important event, and not just for the child and his or her parents. It's significant for the sponsors, too. The relationship between Godchild and Godparents is unique and special. It's a spiritual bond that will last a lifetime. So to commemorate this occasion, and that connection, I envisioned something other than a stuffed critter or coffee mug. Don't get me wrong. My childhood may be way back there in the rear view mirror, but I retain a soft spot for stuffed animals! And there are plenty of mugs in my cupboard.

For me, though, baptism warrants a special memento, whether it's a keepsake for the child, or one for his or her sponsors. That's how this store got started. The first plaques I created were in commemoration of baptism. These mementos won't break the bank. If you opt to purchase them frame-ready, they're just $30. Yet even at that price point, they're created with museum quality materials. The inks, the paper, the matboard - all premium. The colors are vibrant. The matboard will not yellow over time. And don't forget: each one is personalized.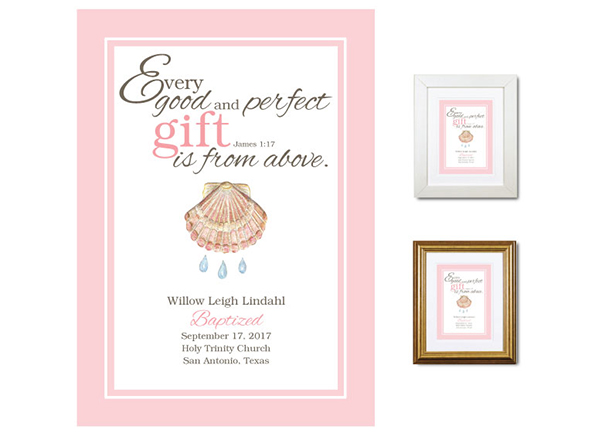 Follow the links to browse each of the collections.

Personalized Baptism Gifts

Personalized Keepsakes for Godparents

Personalized Keepsakes for Godmother

Personalized Keepsakes for Godfather
Join the Christian Gift Community
Be the first to know about the latest news, new products, and exclusive specials by subscribing to our free newsletter.