A Salute to the Field General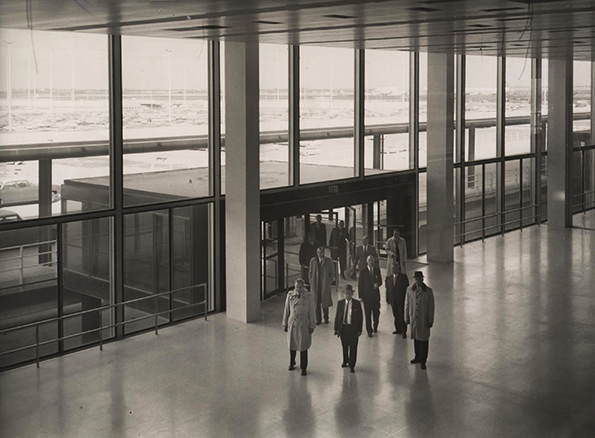 Walter Metschke, center front, at O'Hare Airport - still under construction
My dad, Walter G. Metschke, was Director of Engineering for the massive construction project that transformed Chicago O'Hare International Airport into a jet-age giant of a facility. As such, he oversaw thousands of workers and was responsible for 60 prime contracts worth many millions of dollars (think what they'd be valued at today).

The task was complex. It was the biggest job the city of Chicago had ever undertaken, and there were immense pressures; airport operations could not be interrupted, and the timetable from inception to completion was extremely tight.

The project began before I was born. As a toddler, I rarely saw my father because he was on the job site for 12-hours a day, seven days a week. As it neared completion, the Chicago Sun-Times chronicled the O'Hare project in a Sunday section. Included was a piece about my dad: "Field General Wins Another One." 

Not only did the article accurately convey the magnitude of the job, it painted an authentic portrait of the man. Those who knew him back then will recall "his hat tilted back and his pockets crammed with cigars, pencils and scraps of scribbled notes" as well as the vehicles he sent to early graves as he "traveled over at least 2/12 of every three square feet of territory" on the job site.

A framed copy of that article has moved with me from one side of the country to the other and back again, always hanging in my office. Ironically, when I was old enough to read the piece for the first time, I thought it was terrible. Because it referred to my father as "a tough little bird," somehow his pint-sized daughter felt he was being made fun of.
Was it a complimentary profile? Absolutely. Did I think so? Absolutely not!
There were other big jobs. For instance, planning and constructing the city of Oak Ridge, TN for the Manhattan Project; doing the same for the Air Force Academy.

But it's O'Hare Field with which I most closely associate him.

Every time I fly into or out of the airport, I think of my father. The Sun-Times description was accurate: Walt was a Field General, and a good one. His teams got things done. The quality was top-notch. Carter Manny, who hired my dad for the O'Hare job and became a dear, lifelong friend, was quoted in that article: "The contractors out there had never run into a guy like him before. He made them live up to every inch of the specifications in their contracts...they knew if it wasn't done right the first time, he'd make them tear it out and start over. (It was Carter who offered the description of a "tough little bird.")

Walt could be a bit of a field general at home, too. His children knew that, whatever the job, he expected it to be done well. Lest you think my dad was a cruel and unreasonable taskmaster, however, this could not be further from the truth. He was a man of great integrity, and simply expected the same from others as he did of himself. People thought the world of him.

As Carter said in a letter to my father following the completion of the project: "That the O'Hare job was completed on time all the while interfering airport passenger traffic was increasing to astronomical proportions is a tribute to your great ability and the great cooperation and effort you were able to inspire in your subordinates and in the many contractors and their men."

Years later after my mother fell ill, I had the opportunity to accompany my dad to several functions and facility dedications and saw just how highly - and affectionately - he was regarded. Though work consumed a great deal of his life, certainly there were other sides to the man. He adored kids and seemed to attract them like a magnet. Or maybe it was the other way around. In his golden years it was hard to keep track of the many who called him Grandpa.

He loved to travel. Anywhere. Some destinations were no doubt more appealing than others, but he would not say no to a trip. And he'd be up for doing just about anything while visiting.

He marched to the beat of his own drum. An early example: somehow this Nebraska farm kid in the pre-television era became so enamored of the game of tennis that he went from playing five to six hours a day throughout his freshman year of college to building a clay court back home on the farm - an operation which was sandwiched between his regular farming responsibilities (at a time when farming was back-breaking, physical work). One suspects there were more than a few whispers in town about this oddity over at the Metschke place.

Walt didn't care.

By the way, this passion for the game lasted a lifetime. And in his final years, Walt and The Tennis Channel found one another. It was love at first sight.

He enjoyed playing in the dirt. Give him a shovel and flower beds would appear. Trained as a landscape architect, he found great pleasure visiting gardens and parks wherever his travels took him. Even as an elder statesman he could still rattle off the botanical name for seemingly any type of plant material.

Above all, though, this was a person who cherished his wife and family. Quite a guy. Today, on the anniversary of his birth, I tip my cap to the Field General.

Miss you, Dad.
Join the Christian Gift Community
Be the first to know about the latest news, new products, and exclusive specials by subscribing to our free newsletter.