How many high school-age boys would willingly take a pint-sized little girl to the beach for a swim? How many 17-year-old young men do you know who would come home after a day packed with classes to sit down as a student in another classroom led by a 5-year-old who loved to play school?
I know one who did. My brother.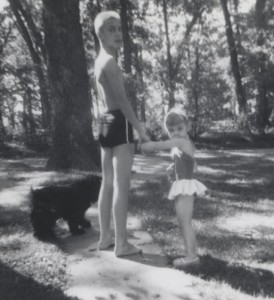 The caboose in my family, I'm the last of five children. We're quite spread out; there's a 20 year age difference between the oldest and youngest. While you often read about how the middle child in many families ends up feeling neglected, or overlooked - instead, our middle child (the one I describe here) was perhaps the most grounded.
We're 12 years apart. He's a boy. I'm a girl. On paper, you'd expect there might have been little in the way of a bond between us. Yet he and I have always been close. This I attribute all to him. After all, he could just as easily have paid little attention to me upon my arrival. I could have been perceived as a mere annoyance. He could have been jealous of me. We might have been nothing more than proverbial ships passing in the night, yet he did something exceptional - taking me under his wing from the get-go.
How wonderfully our Heavenly Father looks after us. Not only did He give me two amazing parents, He gave me the incredible gift of this brother. (Don't get me wrong: I have three other siblings and I love each of them. But this bond is something entirely different - and unique.)
My brother influenced me nearly as much as did my folks. He remains one of my dearest friends. This blessing fell into my lap. As a toddler, I obviously wasn't in a position to define our relationship. Yet there he was, taking an interest in me from the very beginning. My parents didn't twist his arm: he just did it. Why? I have no idea.
Join the Christian Gift Community
Be the first to know about the latest news, new products, and exclusive specials by subscribing to our free newsletter.